Ashish Paranjpe, PMP has over 24 years experience across industries and domains. Click here to view the trainer profile. Here are 4 reasons why you are in safe hands:
1. Ashish has been involved executing and managing projects since 1991, and also managing project managers. Being hands-on helps him relate better to your projects.
2. He has been successfully conducting this unique PMP Crash Course over several batches. Participants took this training AFTER attending 4 day training sessions elsewhere, because he covered much more than what was covered in their previous training, and also to reduce efforts for getting certified.
3. Ashish is a freelancer through several training institutes for PMP. This exposure has helped him ensure the best coverage on the subject. He has conducted more than 40 training programs during the past 12 months. In the past 1 month alone, he has conducted 3 PMP programs - probably the highest for any trainer in the city!
4. As a career coach cum trainer, he can provide valuable guidance, for you to succeed as a manager. His advanced program "Going Beyond PMP" provides participants with an edge over other PMPs, by focusing on topics that are typically required at the workplace but not covered in most training programs on this subject.
Participant Feedback:
Click here to view the participant feedback from previous training programs conducted by the trainer. Last 3 month Avg. Scores: 4.9/5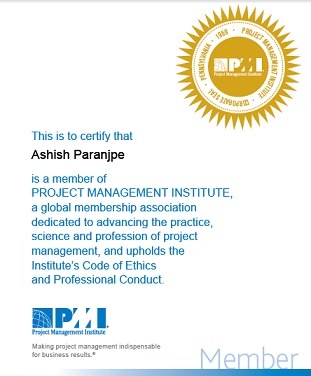 7 Key Reasons to go with GetCoached in PMP:
1. Industry experienced trainer discusses examples in your domain
2. Provides recording of the classroom training to help you revise better
3. Comprehensive course - increase confidence on your PMP prep
4. Interactive learning tool to understand and remember all processes
5. Pre & Post training support by the same trainer - not by a call center
6. Successful track record: < 1% of participants were unable to get PMP in the 1st attempt
7. All this at an affordable fee!
Methodology:
The trainer gives you an overview of PMP and how the PMBOK 6th edition is organized. After covering some key concepts, you start working on the unique interactive tool for learning the 49 PMP processes. The tool helps you learn the inputs, tools & techniques and outputs for each process. Participants learn through feedback in terms of misconceptions and reinforcements for each selection made by the participant. As the participants study each of the 10 knowledge areas, the trainer helps the participants with some key concepts that they need to keep in mind from an exam perspective, for that knowledge area. Lastly, the participants check their level of understanding through mock questions on each knowledge area.
Once all the knowledge areas are covered, the participants attempt a 2 hour mock exam, that gives them an indication of where they stand in terms of PMP readiness. The feedback provided on the answers helps each individual determine what are the areas he/she needs to concentrate. After this, the trainer guides the participants on what they need to do to prepare for the exam. The trainer also helps the participants with the form filling process by guiding them on what they need to do at each step and what a sample filled in form looks like.
After completing the 2 day program, you can take advantage of the power-packed booklet "Cracking the PMP®", which provides you with a huge number of tips and tricks for passing the exam. You can also continue assessing your readiness at each stage, by taking the 3 additional mock exams provided in the kit plus 20 others online.
Fees:
Rs. 6,000 per participant.
This fee is inclusive of Service Tax. Fees are non refundable. However, participants can request (atleast 1 day in advance), to switch over to the next batch (subject to availability) at no extra cost.
Payment Modes: Branch/ATM Cheque drop, Cheque or cash handover, Online banking fund transfer (details below).


ICICI Bank Savings Account: 007301014272. Name: Ashish S Paranjpe Branch: Aundh, Pune. NEFT/IFSC Code: ICIC0000073 (Five zeros seven three)


HDFC Bank Savings Account: 00391140035531. Name: Ashish Shivajee Paranjpe Branch: Boat Club Road, Pune. NEFT/IFSC Code: HDFC0000039 (Five zeros three nine)


IDBI Bank Savings Account: 028104000066909. Name: Ashish Shivajee Paranjpe Branch: Banjara Hills, Hyderabad. NEFT/IFSC Code: IBKL0000028 (five zeros two eight)


Contact 9822603367 or write an email to pmp@getcoached.in to confirm your seat.
Training Package Includes:
2 days of classroom based training delivered by PMP® Certified Trainer having ~25 years experience.
Hard copy of the training deck based on the PMBOK Sixth Edition and latest changes. PMBOK Sixth (6th) edition is in place from March 26 2018
Soft Copy of the training deck, which includes interactive links to examples and the audio recording of the training, for later reference while studying
4 mock tests with answers (soft copy). One mock test solved and discussed in class
A 35 page booklet entitled "Cracking the PMP® Guide" that helps you prepare for the exam
Upto 6 post training support interactions over email, in person or on phone, within 6 months of the training
A comprehensive PMP process guide on how to fill the exam form, sequence of steps towards PMP, alongwith a sample filled-in form
Guidance documents by 5 participants that achieved PMP Certification, to get direct advice on how to pass the PMP
"Library access" to the PMBOK® Guide Sixth Edition (physical book on returnable basis)
Access to the LinkedIn group of serious PMP aspirants - interact with them and exchange tips, links, get answers to your doubts
Recorded Interview with a senior project manager who handled extremely large projects worth over a billion dollars
25 Project Management Templatesfor managing your projects effectively

Note: The 2 days program will include breakfast, lunch and tea/coffee.
Location:
Hotel Orchard, Apte Road, Deccan, Pune.
Dates:
20,21 April 2019 (Saturday, Sunday)
Time:
9 am to 6 pm with breaks for breakfast, lunch, afternoon tea
Batch size: 12-14 participants, so as to ensure maximum interaction and query resolution.
If you don't pass - come back for a free class!
With GetCoached.in's training approach and content, it is likely that you will be successful in the PMP exam. However, in case you are not able to pass the exam, you can come back and attend the training, without paying any additional fees. Here is how it works:
1. The offer is applicable for individuals that had attended the 2 day PMP Refresher course from GetCoached.in
2. The participant will be eligible for the offer if he/she took the PMP exam within 3 months of the training end date, and has discussed with the trainer prior to scheduling the training. Note that the longer you delay, the more difficult it gets.
3. The participant will need to reuse the training content provided in the first training program.
4. The participant will be accommodated in the next available batch.
5. The participant will need to provide the results of the PMI PMP exam, so as to guide him/her better.
6. The participant will be eligible for this offer only once.
Q. Do you guarantee that I will pass the PMP?
A. Actually, no one can guarantee that, but what the trainer does guarantee is that he will cover the entire scope of the PMP course, answer all your queries, ensure that you have understood all the topics. Beyond that, whether you pass or not will depend on your extent of studies, how you use your experience for the answers, your speed of reading, your level of practice, especially for numerical questions, and last but not the least, time management. For more, check the last video on www.GetCoached.in/pmp
Q. What is the eligibility criteria for appearing for PMP?
A. The PMI Handbook (see links on getcoached.in/pmp) provides a detailed information on this. In brief, you need 4500 hours (~ 3 years) of project related experience if you have a degree, and 7500 hours (~ 5 years) of project experience if you have a diploma. This experience should be gained in the past 8 years. You need not be in a project management role during all these years.
Q. What is the option if I do not have these many hours?
A. You can appear for CAPM exam, which is based on the same courseware and the training is also the same. Your exam will be simpler than the PMP and also it will cost you lesser.
Q. What book(s) do I need to refer, for studying for the exam?
A. You need to read the PMBOK Guide, 6th Edition for the preparation of the exam, plus additional books that we will later recommend, if you are not able to get a good score in your mock exams. The book is available for free download, once you become a PMI member.
Q. What is the fee for the PMP exam?
A. For PMP, you need to pay 139$ for PMI one year membership, and later 405$ for the exam fee. In total that comes to 544$. This is slightly cheaper than directly paying for the exam without becoming a member. One of the main advantages of membership is that you get the PMBOK Guide free for download. If you are appearing for CAPM, the exam fee is $300 for non members and $ 225 for members.
Q. How long do I need to study to pass the exam in the first attempt?
A. Generally, people take 1 to 3 months to be ready. It depends on the available time, reading speed, grasping power, experience and mock exam scores. If you are able to devote 1.5 hours every week day and 3 hours every weekend, then you should be able to sail through in 1.5 months.
Q. When do I know that I am ready to give the exam?
A. If you are consistently scoring around 75% in the various mock exams, you can consider yourself to be ready for the PMP exam. However, please note that this is not a guarantee, but a good indicator. You never know what questions will come your way on the exam day.
Q. What if I do not pass the PMP exam in the first attempt?
A. You can give two more attempts in the 1 year time window since you submitted your form and paid the fees. It will cost you 275$ if you are a member, or 375$ if you are not a member.
Q. What kind of exam is the PMP?
A. You need to answer 200 objective questions in 4 hours. There is no negative marking, and there is 1 right answer from the give 4 options. This will be an online exam in India.The nearest center to Pune is at Saki Naka, Mumbai (map link on getcoached.in/pmp). You need to book your time slot on Prometric site, and hence plan a few weeks in advance for the exam. If you are doing a CAPM certification, you can give the exam in Pune at NIIT, Aurora Towers, M.G.Road.
Q. What is the passing score for the exam?
A. PMP does not declare any passing score for the exam. You get a proficiency level after completion of the exam, but not a score. However, it is said that generally you need to score 75% in mock exams to be reasonably confident to clear the PMP, though this is not a sure shot guarantee.
Q. What makes GetCoached.in PMP better than other institutes?
A. It begins from your first interaction - you directly speak with Ashish Paranjpe, the trainer for the PMP/CAPM course. The course content more comprehensive, yet the course material is not too heavy to read. The unique interactive excel sheets help you understand the 49 processes in a much better manner. Also, the trainer (rather coach) is available to support you later, as you go about doing your study. Last but not the least, all this is available for a competitive fee!
Q. Is it necessary for an institute to be an R.E.P. (Registered Education Provider)?
A. No, it is not necessary that the training should be from an R.E.P. PMI (Project Management Institute) permits you to undertake the 35 contact hours (popularly called as 35 PDUs) training (and certificate) from any organization, as long as the topics covered are aligned with the PMP syllabus. Please contact us on +91-9822603367 if you need more information about this.
Q. Will I get a 35 Contact Hours Certificate?
A. No. You are attending a 2 day crash course after you had already attended a training from another institute. That institute will have provided you the 35 contact hours certificate, which is valid for life time. Hence, GetCoached.in will not provide you this certificate. However, on request, you can ask for a 16 contact hours certificate for the 2 days that you attended if you need it for other reasons.
Q. How long is the PMP Certification valid?
A. The certification is valid for 3 years from the day you pass the exam. You need to renew the certification by earning 60 PDUs. Visit pmi.org for more info.
Have more questions about PMP? Just call (or skype chat with) +91-9822603367 from 8 am - 10 pm any day.